(Cowboyhüte = Cowboy hats)
I'd like to take a moment to pause and officially thank American Airlines for (a) not questioning me regarding the bulk amount of Cowboy hats I brought to Germany and (b) not confiscating them. *applause*
This Saturday, I visited a very dear family from church and gave the kiddos each an authentic Texas (made in Mexico... but at least not China) cowboy hat. I've always thought the things were rather goofy, but I have to admit everyone looked pretty darn cute in them. It's so out of context, yet so perfect. The littlest kiddo wasn't there, so that's why I'm in the picture, wearing her hat.
And a close-up...
Typical of Germany, we had cake in the afternoon... here are some more photos...
The two on the outside are
Bizarro Mom's
kids, and the ones with the cowboy hats.
And another family from church... she likes to wear green pants and paint. :)
And another...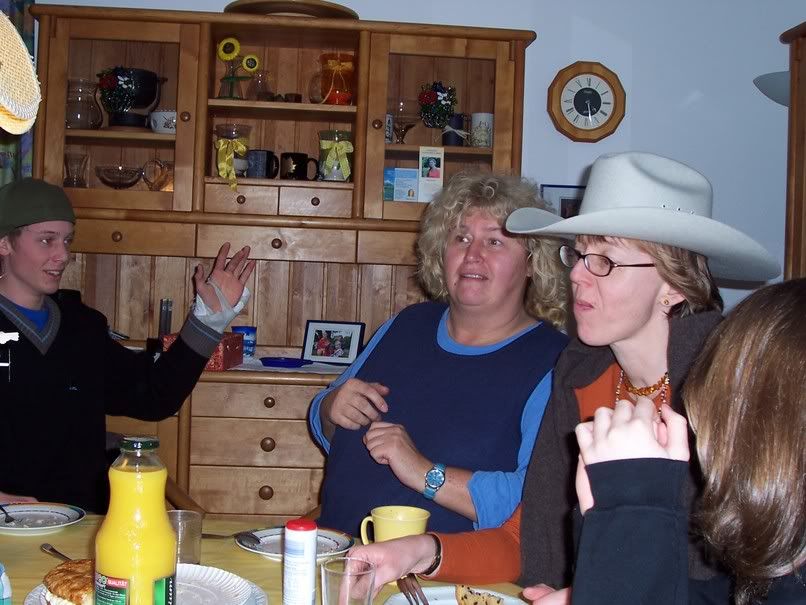 Here's Bizarro Mom in a cowboy hat... maybe I should have brought four back.
And here's her husband, eating cake.
The girls are cooking up something, though I'm not sure what...
Some of the guys repaired a bicycle, which was quite interesting.
'Twas another fabulous day in Deutschland...