... at the city below. Hey people looking out the window, you'll be gone tomorrow.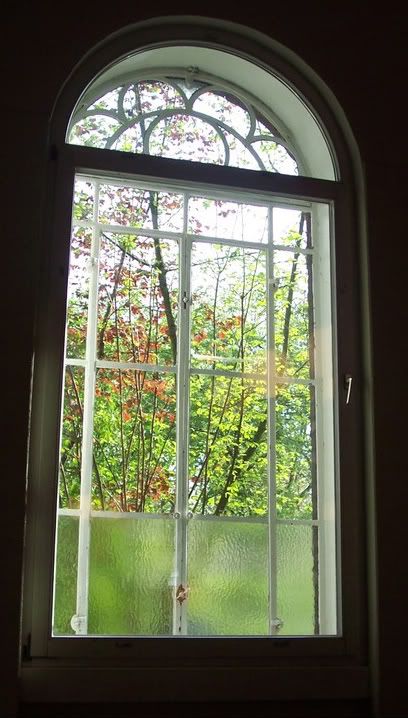 This is what Springtime looks like through the church window. Not that I was distracted by a Certain Someone during the sermon and was taking pictures. I've always liked huge open windows... especially stained glass ones in gothic cathedrals. My life, though, has more walls than windows... thick brick walls that no one understands or can break through. Nothing like pretty open sunshiny windows where you can feel the colours of Spring. Nope. Dark, towering walls that have taken years to build, and will probably take years to crumble, if at all. Yes, I love being dramatic. And I'm seriously doing wonderfully well (in the emotional sense). Otherwise I couldn't write this kind of stuff.
On a lighter note, I almost drove off the edge of a hill on a moped today. A friend has a new moped and wanted to teach me how to drive it, and I agreed to do so on the condition that he sit behind me and make sure I don't total it (or myself). After driving a few rounds, he told me to give it gas, and then he jumped off! I about had heart failure.
What's with guys saying one thing and doing another? Would someone please explain this to me?
On an even lighter note, I'm trying to learn metal piano. There's nothing like a metal band gone soft (think: Hello or Good Enough by Evanescence. Now THAT'S what I call a work of art).